On Friday 18th August the Sound Approach launched a new and unique product at the British Birdfair, Rutland. The Beauty of The Sound Approach is a vinyl LP, with extras; buyers also get a USB flashcard containing high resolution digital versions of the same tracks, plus a similar quantity of bonus ones. So, whatever side of the vinyl versus digital debate you are on, as long as you appreciate high quality recordings of birds and a couple of mammals there should be something to please you.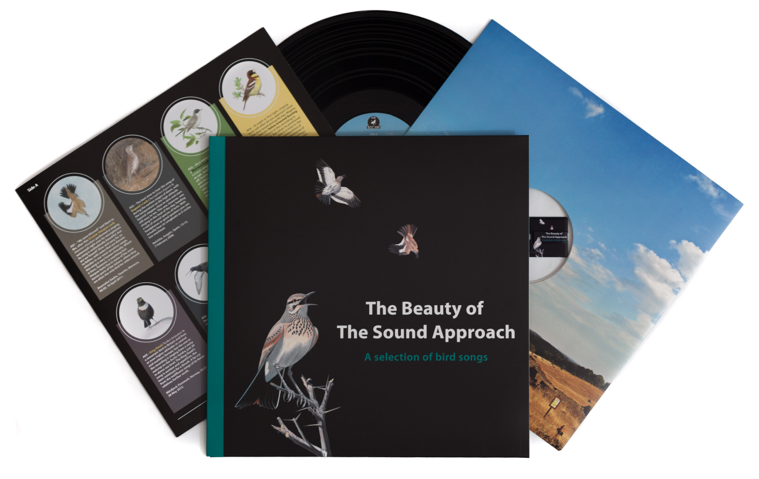 The Sound Approach collection now numbers over 61,000 recordings, of which we have only published a tiny minority. This new product gave us an opportunity to present some of our favourites that had never been released in any form. This time there was no need to illustrate a text; the only criteria for inclusion were novelty on the one hand, and beauty in any of its many forms on the other.
On the USB you will also find interviews that reveal how a number of the tracks were recorded. The cover art was provided by Killian Mullarney, while the booklet contains vignettes by Håkan Delin.
To compliment the release of our new product which is NOW AVAILABLE on our website, we have provided two bonus interviews which were made during the making of The Beauty of The Sound Approach
Greater Hoopoe-Lark, Morocco
"We were blessed!" said Sound Approach co-founder Mark Constantine to his wife Mo, seconds after this Greater Hoopoe-Lark Alaemon alaudipes performed a singing somersault right over his microphones. With only Cream-coloured Coursers, Red-rumped Wheatears and desert silence for a background, who could disagree?
Grey-headed Woodpecker, Sweden
You could almost call it the acoustic equivalent of the Aurora Borealis. The sound of thick ice twanging, humming and cracking on a lake can be quite otherworldly. Add the song of a Grey-headed Woodpecker Picus canus and the result is one happy sound-recordist.
Desertas Petrel, Madeira
In the opportunity of a lifetime, Magnus finally went to the island of Bugio near the Madeiran archipelago to record Desertas Petrels Pterodroma deserta in 2011, several years after completing Petrels night and day. This recording probably includes a significant proportion of the world population of fewer than 200 pairs.
Feral Pigeon, Spain
A recording doesn't have to include a rare bird to become one of our favourites. In a Spanish village, children are playing football on a nearby street while Feral Pigeons Columba livia coo and rookiteecoo from the eaves of a house. This is a surprisingly rich sound, if only we listen closely.
Purchase The Beauty of The Sound Approach
Share this post